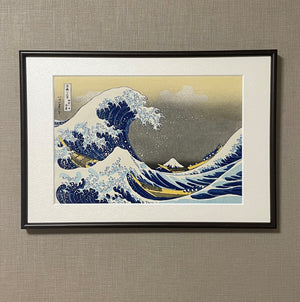 Japanese Woodblock Prints
---
These modern reproductions of traditional woodblock prints are created using the original 190 year old method, and hand printed on Echizen Washi, Japanese paper. The quality of these majestic works of art, created by two renowned woodblock printers, Mr. Matsuzaki and Mr. Nagao, is instantly recognizable and a gem to last a lifetime.
Mr. Matsuzaki is currently the only master woodblock printer who has been awarded a medal by His Majesty the Emperor of Japan. 
Yuji Nagao is an master of Traditional Craftsman in Taito-ku district, Tokyo and the woodblocks is carved by his younger brother Jiro Nagao.
And Washi paper has also been recognized as one of Japan's Cultural Properties, due to its long history and its enduring artistic and cultural significance.
Artwork by Matsuzaki
The Great Wave Off Kanagawa. Printed by K. Matsuzaki

Artwork by Nagao
The Great Wave Off Kanagawa. Printed by Nagao brothers