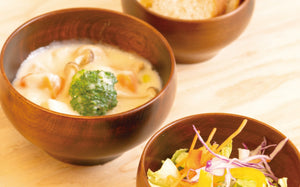 Yamanaka Lacquerware
---
Yamanaka lacquerware has a history of more than 400 years in Japan.
A major feature of Yamanaka lacquerware is that it makes the best use of the wood grain pattern and expresses natural texture. This creates a robust lacquerware that is not easily distorted by drying, and enables elaborate finishing of not only bowls but also thin edge and lids.
Kashyoan is dedicated to creating designs that combine both traditional and modern techniques. Producing products that are practical, stylish and beautiful.